Today's new vinyl flooring options have revolutionary new wear surfaces that provide an authentic texture and feel of natural materials as well as exceptional scratch resistance and easy maintenance. With every vinyl flooring product we sell we offer professional installation and all of our installations are backed by our full guarantee.
Vinyl floors offer:
Unlimited design options – match any decor
Vinyl Flooring Ease of maintenance – no hassles with mopping.
Good durability – even in traffic areas
Broad range of costs – fits all budgets
Extremely moisture resistant – for wet area use
Unlimited usage – use in any room of the home
Better resiliency – easier underfoot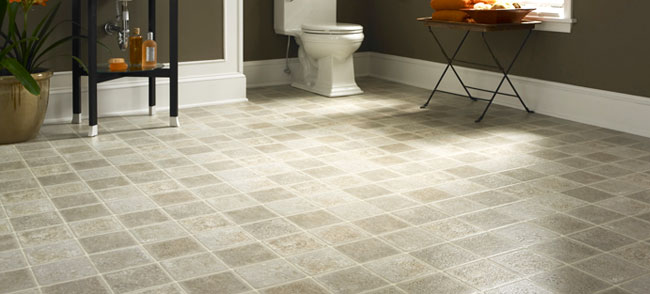 Flexible, affordable and easy to maintain.
Homeowners love vinyl flooring because they offer an affordable, durable alternative to traditional flooring materials. It's easy on the feet, ideal for moisture-prone areas and perfectly suited for kitchens and bathrooms. Because it's available in a wide variety of textures and patterns vinyl can fit almost any décor. Plus it requires little maintenance. At Quick Carpet, our experts will help you select and install the perfect vinyl flooring to fit your home.
Luxury Vinyl Tile Flooring (LVT)
Wood plank tile flooring – tiles that look like wood
Modular flexibility, including large format shapes and sizes
Easy to create unique designs and patterns through a broad palette of coordinated colors
Bring realism to every design with high fidelity printing techniques and proprietary embossing methods
Durable, long-lasting performance – withstands heavy foot and rolling load traffic
Cultured diamond-infused coating – provides industry leading resistance to scratches, stains, scuffs, and damage from alcohol-based hand sanitizers
Easy maintenance – less cleaning time and disruption
Easy to install flooring for customized designs