Whether you have an active family or are trying find flooring that it easy to maintain, laminate flooring can fit many floorings needs. For those wondering what a true laminate floor is, let us help! It's really a combination of special resins paper layers, fiber core and a print film that are all fused together into a solid mass. Do to the structural make up, laminate flooring will not stain, fade from sunlight and is extremely impact resistant. Additionally, it offers a glueless locking system for a no mess installation, and a wide assortment of colors and patterns.
Laminate can be placed over existing ceramic tile, existing VAT (Vinyl Asbestos Tile), or anything you might have down that you aren't currently satisfied with. Whether you prefer the rich looking ceramic tile appearance or the beauty of hardwood, Nielsen Brothers Flooring has the laminate that is right for you!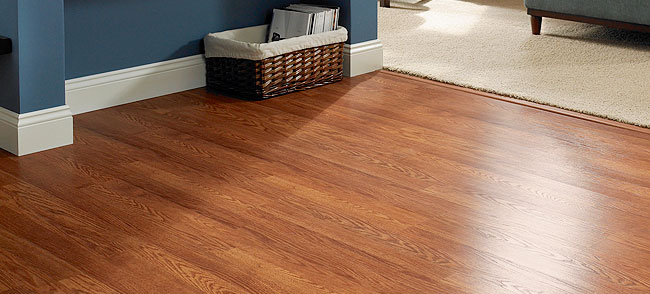 There are many good reasons why laminate flooring is a popular choice in today's homes. Laminate is a manufactured product that simulates the look of hardwood, ceramic tile, natural stone and many other types of flooring. In the past, laminate floors have been easy to spot, but today's technology allows manufacturers to create realistic visuals and textures for an elegant and quality floor.
patterns mimic wood and natural stone
good choice for the look without the maintenance or cost
offers significant value
range of colors and styles, including exotic
durable for active lifestyles
stain resistant, no wax or varnish
less likely to fade in sunlight
10-20 times harder than laminate countertops
floated rather than secured directly
installed over a variety of subfloors
one of the best selling floors in the US
great impact and indentation resistance
easy to replace, if desire